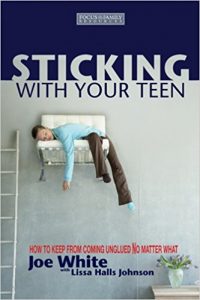 Love isn't always easy, especially when the person on the receiving end is a rebellious teenager or wayward young adult. Unconditional love isn't fun, but it's the true test of a parent's love.  That doesn't mean you don't draw boundaries with your child, but it does mean sticking with them.  Your kids need to know that you love them not if… but, no matter what!
Sticking with Your Teen
 is an encouraging book if you're a parent, who's ready to throw in the towel.  What you do in those dark days of parenting will determine the kind of relationship you have with them in the future!  If you're not sure what to do, read a helpful book on the subject, get advise from other successful parents or pay the big bucks for professional advise from a counselor or life coach!  Investing in your teen or young adult's future…and the future of your relationship is always money well spent!
I'd love to hear your parenting tips! How do you show unconditional love to your teen or young adult kids?