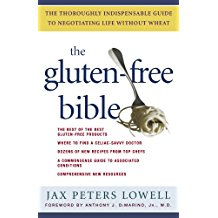 Whether you've recently discovered that you have a gluten allergy or you're a long time veteran of Celiac Disease, The Gluten-Free Bible
has something for everyone!
If you're just starting out, and you haven't figured out how to cook gluten free, study Part 1 and 2 of the book for the basics on setting up a gluten free kitchen and purchasing gluten free products.  If you're planning a vacation out of the country, turn to Part 3, which offers tons of websites and resources for dining out and planning a gluten free trip!
If you're not sure how to navigate college, dating or the holidays with a gluten allergy, read Part 4 for tips on being gluten free in tough situations.  If you've been looking for a doctor, who knows something about Celiac Disease, investigate Part 5 regarding "Medical Matters".  If you've been doing this gluten free thing alone and you need additional resources and support, check out the websites and support groups listed in Part 6.
Whatever you do, though, don't do what I did and try to read the whole thing in one sitting, or your brain might explode from information overload! This is an exhaustive gluten free guide, designed to educate and inform.  Welcome to Gluten Free 101!  Grab your pen and highlighter and get ready to become a Gluten Free Bible scholar! 🙂