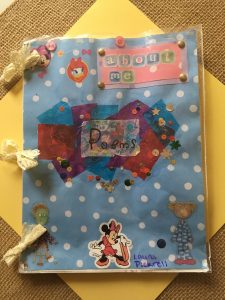 Inquiring minds want to know, "Where did you get the idea for your picture book, Buttons??"
It's always fun to hear where inspiration strikes, so here is it-my daughter, Laura Pickrell Ambrosio's, adorable About Me book from the mind of her 3rd grade self.
Within the pages, was a clever and silly poem about buttons with tiny buttons glued all over the page. It was so cute, we just couldn't keep it to ourselves. 🙂
Buttons is available on Amazon! Hope you love it as much as we do!
You never know…maybe lurking in all your child's school papers is a beloved children's picture book just waiting to be published.
I'd love to hear from you! Where do you find inspiration?