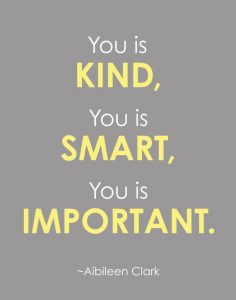 One of my favorite scenes in the movie, The Help, is when the nanny says to the little girl, "You is kind. You is smart. You is important." Everyone needs someone who believes in them like that and shows them who they can be.
Words are so powerful. We have the ability to instill in our grown kids a confidence to tackle the challenges of life. This is the kind of cheerleading our young adults need when adulting. Heck, this is the kind of pep talk I need when I'm trying to succeed at something new!
Creating a family culture of encouragement starts at the top. I have to credit my hubby, Mr. Wonderful, for passing on this healthy trait!
It warms my heart to hear my kids rooting each other on. Group family texts are the best! Hearing my family rally around each other with "You got this!" and "Go get 'em!" is music to my ears.
Being each other's biggest fans is what family is all about!
How do you encourage your adult kids? I'd love to hear your ideas. Let's learn from each other. 🙂