Is your young adult stuck in life and not moving forward in one or more areas of adulting? The wheel of life wheel of life pdf⁠1 is a great tool for making sure the wheels are in alignment and not all wonky.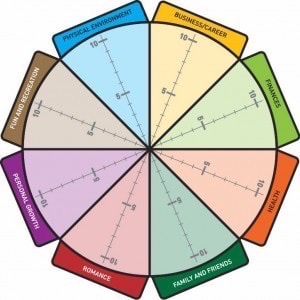 The Wheel of Life is divided into 8 different colored sections that represent 8 different areas of life:
business/career
finances
health
family and friends
romance
personal growth
fun and recreation
physical environment
Each area has a rating scale from 1-10 to indicate personal satisfaction in each area.
Of course, not every young adult is open to resources like this, especially when they come from their parent. In that case, I'd just use it to have a coaching conversation, like-
Which area of your life are you happiest with?
Which area of your life would you like to change, if you could?
Or I'd use the Wheel of Life for myself, and share my goals, successes, and missteps along the way. After all, you know what they say, "More is caught than taught." 😉
1 https://positivepsychologyprogram.com/wp-content/uploads/2017/05/wheel-of-life-300×3