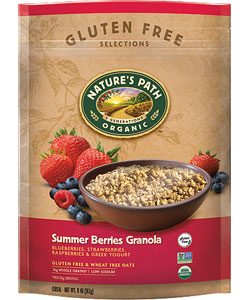 I'll take Nature's Path any day, especially if the trail is littered with gluten free Summer Berries Granola! Soooo yummy! On Nature's Path, you'll also find gluten free waffles, cereal, chewy granola bars, and Qi'a, a superfood that looks like birdseed, only better!
Just be careful to look for the gluten free sign along Nature's Path, so you don't accidentally find yourself wandering into non-gluten free territory! With all these delicious, organic, gluten free choices, why choose any other route? Take Nature's Path! I'll leave a trail of granola for you to follow!
What's your favorite gluten free granola?