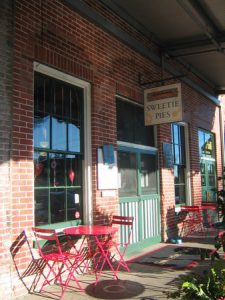 Sweetie Pies is a whimsical bakery on the charming Riverfront in Napa. Initially, I was lured into the bakery by my incredible sweet tooth, but once inside, I was captivated not only by the artful and otherworldly treats, but by the colorful portraits of a young girl, who I can only assume is Sweetie Pie, inhabiting the walls of the bakery.  She looked kind of reminiscent of a character from a Tim Burton film, suggesting that Sweetie Pie might have a dark side. Apparently, it's a delicious dark side with a creamy, swirly center, because when I inquired if any of Sweetie Pies' treats were gluten free, they told me about a flourless chocolate creation called a Yodel that looks and tastes like a giant Hostess Ho Ho. Sign me up!
Unfortunately, the Yodels were out for the day, and if you saw a Yodel, you'd know why I came back the next morning in hopes of Yodeling, but apparently, lots of people like to Yodel, so I never got to Yodel in Napa. Next trip, my plan is to reserve two Yodels in advance, because my husband wants to Yodel too, so I suspect we'll be Yodeling together at Sweetie Pies real soon.  Actually, one Yodel is enough for any couple, but of course, my Sweetie Pie wants to make the trip to Sweetie Pies well worth it. Okay. I'm done now. That's enough of the word play. I'm headed off to a high hill with a lonely goatherd, and a girl in a pale pink coat and her Mama with a gleaming gloat, whatever a gloat is. Odl-lay-e-ooh!
www.sweetiepies.com
I'd love to hear from you! What's your favorite gluten free treat?