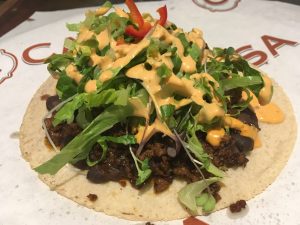 C Casa is an organic and gluten-free taqueria located in Napa's Oxbow Public Market. The C stands for cultural cuisine using pure and natural ingredients. Don't ask for a regular Coke at C Casa. This is a preservative-free zone. However, they can offer you a Coke from Mexico with pure cane sugar … from Hawaii … sweetened by the sun.
That's not the only thing that's pure and natural at C Casa. Hidden under all that nutritious and fresh local produce, each gourmet taco contains a delicious and cultural experience in grass-fed beef, sustainable fish, and free-range poultry. These animals led happy lives, frolicking in their natural environment, and you can just taste the happiness in their meat.
My mountain man went for the biggest game on the menu … buffalo! The man sitting next to us was eating buffalo, too, and the two men looked at each other and nodded that manly nod and grunted approvingly at one another and devoured that buffalo-loaded taco and wiped their mouths with their sleeves and dreamed about camping on the plains of South Dakota and living off the land.
Meanwhile, I daintily ate my delicate Mahi Mahi fish taco with a fork and dreamed of sunbathing on the tropical beaches of Hawaii and spa treatments and beautiful sunsets. I guess the C in C Casa does stand for cultural cuisine, because I'm ready to pack my bags for Kauai and enjoy more fresh island fish!
Before I catch my flight, though, I definitely need to include a couple cases of C Casa's tortillas, because those were the best gluten-free tortillas I've ever had in my life … so light and delicious.  Adios, C Casa!  Aloha, Hawaii!